In this thread you can ask anything you'd like. There's no such such thing as a stupid question.

Hello,
We are using TravelSpend on a long-term trip through South America, and after three months we consider it as one of our best traveling companions. Great app!
I work by creating a new trip for each new country we visit, and keep track of the total amount spent in a separate trip. However, I updated the app this morning and noticed some changes in the daily budget calculation of our ongoing trips. For example, in the 'overall trip', we have a budget of €28000 for one year, which equals €76 per day. Until yesterday, this was indeed the daily budget calculated by the app. Since this morning, however, this budget has dropped to €60 per day.
It took me a while to figure out, but we had some expenses scheduled for next week - a flight, some nights paid ahead - and I already included these in the app. When I set the date of these expenses to today, the daily average bounces back to €76, and all is well.
I see that this update fixed some issues with pre- and post-trip expenses. However, the future expenses mentioned here are still before the end date I set for the trip. As I understand it, these future expenses are now subtracted from the total amount that can be spent before the daily budget is calculated. We often pay in advance for some nights, and this function is also included in the app with the 'spread over multiple days' option, so it would be great if such expenses would not influence the daily budget of a trip. I wonder whether this change has been intentional?
Thank you!
Jorunn
i have a question as well. im loged in as anonymes but i like to make a account now so i my phone dies its back up't but if i log out will my data be gone?? or can i safely log out and make a real account and login again?
Hi Jorun, yes I have changed the rules for calculating the daily average. Some users have actually complained and requested to not include future expenses in the daily average. It's interesting to hear that you'd prefer them to be included.

Maybe I should offer some configuration for this.


What do you think?
Hello Shiva, if you log out from your anonymous account and create a new account you will lose the data you've already entered. If you contact me on info@travel-spend.com I can maybe help you migrate to a new account.

Hi,
Thanks for the quick response! I think I liked it better when they were included in the daily average, because now it gives the false sense that you are spending less than you actually are. Which is probably why other people like it that way :)!
Anyway, I realize this is personal, and I happily adapt to the new version (good incentive to make less future expenses!). But if more people feel this way perhaps you can add a tick box in the 'edit trip' menu, letting people decide whether future expenses should be included?
Hi Jorunn, I agree it's a matter of taste. At the moment future expenses are also subtracted from your budgeted daily average. This way the app would still warn you if you're adding too many future expenses.
I'll probably add a setting to disable this at some point.

Hey,
Ich hoffe es ist okay auf Deutsch zu schreiben. Kann meine Anmerkungen natürlich gern noch Mal auf Englisch beschreiben.
Zunächst: tolle App, super übersichtlich und schön gestaltet.
Nun sind mir ein paar Dinge aufgefallen und ich wollte sie Mal anmerken, ich hoffe hier ist dafür der Ort.
Das vielfach angemerkte Teilen zwischen Gruppenmitgliedern (extern sowie intern). Hier wäre es noch cool, wenn diese Funktion nicht auf eine gleichmäßige 50/50 Aufteilung beschränkt wäre, sondern sich anpassen ließe.
Befindet man sich in einer angelegten Reise und will (wie es mir häufig passiert) zwischen den Reisen switchen und drückt dabei den zurück-button so beendet sich die App. Wäre es nicht möglich die Reiseübersicht als Startseite zu verwenden? Es würde auch reichen, wenn ein "zurück" den Klick oben ins Menü ersetzen würde.
Die Funktionen des Verteilens über mehrere Tage ist genial, aber…
3.a) Einmal erstellte Ausgaben lassen sich nicht nachträglich auf mehrere Tage aufteilen
3.b) Aufgeteilte Ausgaben hängen nicht mehr zusammen sobald man sie speichert, heißt man muss jede einzeln ändern, sollte man sich z.B. verschrieben haben.
Wie gesagt nur ein paar Dinge die mir aufgefallen sind und die sich sicher gut in der App machen würden.
Now English:
Some comments about your otherwise brilliant app
Sharing between persons in the group 50/50 and should not be limited to equal payment rather add the possibility of unequal shares (eg. 70/30).
Overview over the trips as the starting screen of the app because "back" leaves the app.
3.a) Once saved expences cannot be changed to "spread over time"
3.b) Once saved expences over time aren't connected, so that you have to change each one separately.
Dear Naolin,
Thank you very much for your detailed feedback!


Some of the points you mention have been brought up by others as well. I've added them all to my backlog of feature requests and will hopefully implement them at some point soon.

Vielen Dank

Jonas
Hi Jonas,
I recently tried your app and I do like it and I use it for professional purpose, however, could you eventually please add a income function?
Like a function that allows you to get an income on the budget? Maybe it's already on the app and I haven't seen it.
Cheers
Hi, you can actually add negative amounts to add income. I'm planning to improve this functionality in the future.

Hi … firstly l think this is a brilliant App. I am doing a 3 month trip through Eastern Europe. Just wish l had it last year when l travelled for 18 months.
Anyway when l set it up I had no idea what my budget would be taking into account all expenses … how do l change the budget amount?
Thanks
Christine
Hi Christine, I'm very happy you like TravelSpend!


Changing your budget is actually easy. Just tap on your trip name in the top and then tap 'Edit' in the 3-dot-menu of your trip.
Best,
Jonas
Hello!
Thank you much for developing this app. It is so useful!
I wanted to ask how to delete a budget trip on the iOS app? My partner can delete her own trips on the androids app version. Thanks so much!
Hi, if it's your trip you can tap on it and then tap "Delete" in the bottom. If the trip was shared with you you can't delete it at the moment.
Great! Thank you much and thanks again for creating this amazing application!
Hello Jonas,
The app you made is really cool. It is helping a lot of people around the world to manage their travelling expenses. So great job!
But of course as everything is not perfect.
I can see that a lot of people posted a lot of suggestions for improvements and upgrades. I suggested a few things myself.
(how cool is it to have other people helping you to come up with really cool features to make this app the best on the market?! it is like a free creative team on board, isn't it?)
I'm sure that some of them are difficult to do, some are a bit too much but probably a lot are really great.
But somehow I feel like there is not much happening in terms of implementing any changes/updates.
Apology if I'm wrong and missed some updates!!
I have the premium account and as a paid account i would expect a little bit more frequent improvements tbh.
I do understand that the free version is not something you make much money on but can you do at least a little bit more for the premium accounts?
I'm sorry if i sound harsh but I really do want your app to be the best on the market as all of us will benefit from that! thanks in advance!
Hi Diuleka,
Thanks for your kind post!

I'm indeed super happy that so many people like and use TravelSpend around the world. That's extremely rewarding and motivates me a lot!

In the past I've balanced my work on TravelSpend with freelance work for clients as TravelSpend doesn't make enough money for me to live off of it. But since the beginning of May I've actually been working on TravelSpend full-time. It's still not making enough money really but I want to invest my time in it as I believe it will grow further in the future. It's a lot of work as I'm maintaining both the iOS and the Android app (and the backend) all by myself and have to do a lot of customer support as well. Nevertheless, I'm trying to add new features on Android and iOS as frequently as possible.
Also, I have some good news for you

:
I have actually released a new update for the Android app yesterday (v1.6.0). It's currently only available in the public beta channel because I'd like to make sure it's really stable before I release it to everyone. But if you'd like to to try it out already you can just join the beta channel here: https://play.google.com/apps/testing/tech.jonas.travelbudget
This update brings quite a big new feature: you can now link places to expenses and then see all your expenses on a map. This has been requested by many users and I think it's really useful. Have a look and let me know your thoughts.

This is what it looks like: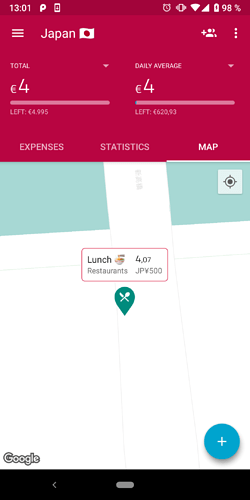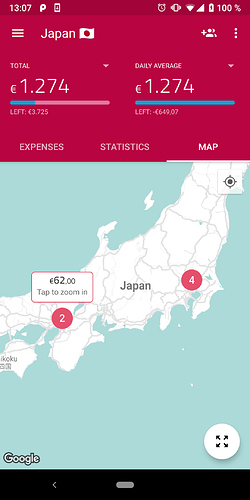 Thanks again for your kind and honest message. I hope I was able to give you a satisfying answer. You can be sure that I will continue to add features for both the Android and the iOS app. I'm also planning to be more transparent about my roadmap here in the forum and show what I'm currently working on.
Hi Jonas,
Thank you for such a great app! I just bought a subscription and during my current vacation faced with one annoying restriction - as a user I want to be able to duplicate a record. For instance, we with my wife have paid for tickets for a bus, each with own paypass card. So we have two expenses for 1.70£ paid from each payment card. There is no possibility to do this within one record so I used to create two ones for the same purpose but different payer.
As a bonus feature it would be great to have a dark theme for the app. Recently Google Keep got a dark theme and it looks very good.
Thanks.
Dmytro.
Hi Dmytro,
sorry for the super late reply

Thank you for your feedback!
I'm planning to implement some kind of cost splitting functionality soon. This will probably don what you need then.
And yes at some point I'll probably add a dark theme too.

Best regards,
Jonas